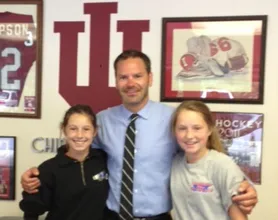 Dr. Robert J. Goode, III, (Dr. Bob as most patients refer to him) is a second generation doctor. As a Chiropractic Physician, Dr. Goode brings a unique blend of enthusiasm, humor, and genuine interest in the well being of his patients and the community.

Dr. Goode specializes in family practice for acute and chronic muscle, nerve, and skeletal pain and is state and nationally certified as a Chiropractic Physician as well as certified in physiotherapy. Dr. Goode utilizes state of the art technology in combination with gentle yet effective hands to provide long-lasting, comfortable, and painless treatments.

Dr. Goode is from Columbus, IN where he graduated from Columbus North High School. Dr. Goode finished his pre-medical studies at Indiana University and received his Doctorate of Chiropractic from Life University in Marietta, GA. Dr. Goode also received his Physiological Therapeutics certification through the Department of Sport Health Sciences at Life University.

After graduation, Dr. Goode practiced in Atlanta, GA and in Indianapolis, IN. His admiration for the outdoors and love of Bloomington brought him and his family back home again. Dr. Goode has two children Riley and Jax, and resides on Lake Lemon.
---
EDUCATIONAL PROFILE OF DR. GOODE

EDUCATIONAL STUDIES

Life University College of Chiropractic, Marietta, GA.
Doctor of Chiropractic
Department of Sport Health Science- Physiological Therapeutics
Diversified Technique
Thompson Technique Club Member
Advanced SOT Technique
Cox Flexion- Distraction Protocol
Basic Cranial 1 & 2
Activator Technique
Gonstead Technique
Chiropractic Pediatrics
Indiana University, Bloomington, IN.
Pre-Medicine Studies
Certified Emergency Medical Technician
Sigma Chi Fraternity
Examinations:
National Board of Chiropractic Examiners Parts I-IV
National Board of Chiropractic Examiners Physiotherapy Examination
Indiana State Board of Chiropractic Examiners
If you are looking for a chiropractor with over a decade of hands on experience, who has treated thousands of patients just like you, and has had success by focusing on your individual needs as a patient, then contact us today to make an appointment! We are minutes from the Indiana University campus.